Buy an Amazon FBA Business For Sale
Interested in buying an Amazon FBA Business? As a leading online business broker, Website Properties can help save you time and align you with the right buying opportunities to match your acquisition criteria. Check out our current Amazon FBA – Fulfillment by Amazon listings below.
Benefits of buying an established Amazon FBA Business:
Starting an Amazon FBA Business from scratch does not always guarantee a lucrative business

When you buy an existing Amazon business, you can acquire a product that is already actively selling and generating revenue.

Researching and sourcing the products have already been done which can be time consuming

No need to find a shipping supplier or 3PL warehouse

The Amazon listings have already been created which are no small tasks.

Impressive ROI right out the gate

Amazon's FBA business model can be operated from anywhere in the world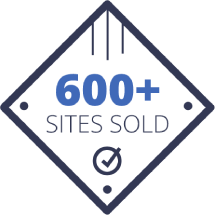 Selling Internet Businesses
A proven sales process developed by Website Properties
Amazon is an online marketplace – a website where different sellers can list their products for sale and connect with potential customers.
A Third-Party Seller is any merchant who lists their products for sale on Amazon. When their products are sold, Amazon takes a little cut of the selling price as a referral fee for the privilege of selling on their marketplace. This Amazon business is more commonly referred to as Fulfillment by Amazon – FBA.
First-party sales on Amazon are those made by Amazon, either of their own branded products or through traditional wholesale arrangements with suppliers (through the vendor program).
Third-Party Sellers
FBA
FBA stands for Fulfilled By Amazon and means that a seller not only lists their products on Amazon for sale, but also send their products to an Amazon warehouse, termed Fulfilment Center, to await sale. Once purchased, Amazon will pick, pack and ship those products to the customer. They do this for another fee based on weight and selling price, so in addition to the referral fee the seller is also now paying an FBA fee, effectively making Amazon a logistics provider.
What are the benefits of using Amazon's FBA service:
You don't have to worry about storing inventory or shipping orders to customers
Amazon takes care of customer service and returns
You can use Amazon's marketing and promotional tools to reach more customers
FBM
Some sellers will want to leverage their own existing logistics infrastructure, and therefore will opt for FBM – Fulfilled By Merchant. When their product is sold, Amazon passes the seller the shipment information and the seller then arranges the products delivery to the customer. The advantage for some brands is that this is cheaper than paying Amazon FBA fees, but many Amazon and Amazon Prime customers prefer FBA sellers because they find the service more reliable and return options often more flexible.
Both FBM and FBA third-party sellers use Amazon's Seller Central platform to list and manage their products.
Reasons Amazon FBA is the Most Sought-After Fulfillment Option
Profitability
89% of Amazon sellers are profitable, an upward trend from prior years. With rising costs creating new challenges, over a 1/3 of third-party sellers said their profits increased throughout 2022 showing resiliency experienced by e-commerce businesses compared to other sectors.
Operations
Amazon has over 175 fulfillment centers made up of state-of-the-art technology each around 600,000 to 800,00 sq ft. Their fulfillment centers are built with the sellers' inventory in mind and there's no minimum for the number of products you send. Amazon handles the details to save sellers time allowing a seller to focus on their business.
Enormous Exposure
A huge benefit of using Amazon FBA for your business is that you will be selling your products at one of the most innovative and trusted online storefronts in the world. According to market research, 61% of US consumers begin their product hunt on Amazon. With over 2 billion visitors per month and an estimated 310 million active users worldwide, the Amazon marketplace provides sellers an opportunity to tap into this huge market.
Global Market
Amazon FBA sellers can take advantage of the record number of consumers globally that are turning to Amazon Global Selling to meet their everyday shopping needs. Sellers have the opportunity to reach millions of customers in over 180 countries as an Amazon selling partner allowing the company to accelerate international sales by using the power of Amazon's global brand.
Freedom
Running a successful online business requires handling many moving parts. Using Amazon FBA allows you to hand over responsibility for shipping, delivery, and even part of your marketing. Most everything you need for your storefront can be handled through your account, freeing up your time to handle other aspects of the business. This allows you to run it from anywhere in the world giving you more financial and location freedom most entrepreneurs value.
Fulfillment for Less
Rising shipping costs are a big concern for eCommerce sellers. Amazon is driving down costs by controlling more of its supply chains and passing on those savings to FBA Sellers. Using FBA for shipment costs 32% less per unit on average compared to alternatives. With its impressive delivery fleet, Amazon also partners with quality shipping carriers globally to expand its shipping capabilities and provide generously discounted rates. By using FBA, the majority of the orders are eligible for free shipping or 2-day shipping for Prime members.
Excellent Customer Service
Amazon FBA offers excellent global customer service that manages customer inquiries, refunds, and returns for sellers' FBA orders. They also handle other customer service tasks such as providing tracking details or requesting ratings and reviews. FBA features 24/7 customer service management where customers contact customer support via phone or email. When using Amazon FBA your time can be spent growing your business rather than managing customer service.
Amazon Seller Data
As an FBA seller, you utilize the analytics and data Amazon provides for your business to adjust and improve your results. Amazon's Brand Analytics tools can help you grow sales and visibility for your business. With Brand Analytics, you get access to insights about the online shopping and purchasing habits of customers. By using this, you can build your brand's visibility and revenue.
Who Usually Buys Amazon FBA-Fulfillment by Amazon Businesses?
Potential buyers differ depending on the size of the Amazon FBA business. Generally, for businesses valued under $1 million, the buyers are often individuals looking to enter the Amazon FBA market or people with established e-commerce businesses looking to expand their market.
Many larger FBA businesses are sold to Aggregators, Private Equity Firms and Syndicates that acquire only existing Amazon FBA businesses. These investors buy up Amazon FBA businesses and capitalize on the low-selling multiples. They are looking for third-party businesses to acquire in order to build a portfolio of businesses and grow them exponentially.
Preparing to Purchase an FBA-Fulfillment by Amazon Business
In most ways, buying an Amazon FBA Business is like buying any business. Amazon's FBA business is profitable to both buyers and sellers. We know each business is unique. However, there are certain factors that you need to consider while buying an Amazon business.
When evaluating an Amazon FBA business, proper due diligence is very important. Three important steps to evaluating the company are:
Evaluate the product(s) being sold (sales history, number and quality of reviews, competing products)
Evaluate the profit and loss sheet of the business
Evaluate the effectiveness of advertising campaigns
In addition, here are some other important aspects of due diligence to consider when purchasing an Amazon FBA business:
Type of Business – It is important to determine the type of sale. Most Amazon FBA acquisitions will be Assets Sales, although some could be Share Sales. Each has its own pros and cons, so determining which transaction will likely be would be helpful.
‍Private Label – The private label FBA model requires purchasing existing products and then rebranding them as your own before selling them on Amazon. White-label products refer to products sold in this type of FBA business arrangement.
Proprietary Products – In the proprietary model, the seller has created a unique product or augmented an existing product to make their own, then sells it on Amazon. This differs from the private label model because they aren't just adding their brand to an existing product, they own both the product and the brand.‍
Seller Account Health – As a buyer, you will be taking over full ownership of the seller's account. Seller account health is an important step of due diligence. As a potential buyer you should look carefully to see if there's any warnings against the account or if the account health overall is bad. If there are any issues or if the seller account has ever been suspended in the past, this can be a red flag. Amazon provides every seller a page that monitors their seller account health.
‍Product Reviews – Positive product reviews can be an important advantage for a business. This means the Company has developed a trust with Amazon customers which is a great benefit. Likewise Negative reviews can reduce trust in the Company and product being offered.
‍Competition – Identifying the competition in a category is important to determine whether the business has the potential to be a significant player or is in a highly competitive niche. Preliminary research into a product, niche, or category will provide a better understanding of the competition and long-term trends.
‍Growth Opportunities – It is essential to identify the business's growth opportunities to make sure there is room for growth or if it has the potential to make money. If you find the Amazon FBA business for sale has the potential to scale up, then it will likely be worth buying.
‍Reasons for Selling – It is important to find out the main reason behind the owner selling the business. Knowing the reason behind the sale of a business can tell you much about a potential negation opportunity.
Preparing to Sell Your FBA-Fulfillment by Amazon Business
Whether you've just launched your Amazon business, just acquired an existing Amazon Seller account or have been operating your Amazon FBA business for years, it's never too early to start preparing for your eventual exit. Instead of rushing to do a bunch of housekeeping when it comes time to sell, build a business that's ready to be handed over to a new owner. Some items to plan ahead based on the timing that fits your timeline for sale:
Collecting Data
Use and record Amazon's Analytics to track your business' performance over time.
This will offer a crystal clear picture that you can hand to a prospective owner.
Create Standard Operating Procedures (SOPs)
Much like good bookkeeping, standard operating procedures (SOP's) are the unglamorous foundation of any successful business. Having documented processes will be attractive to any buyer looking to buy your business down the road.
Keeping Clean Books
Ultimately, it's the numbers that are likely to win over a prospective buyer, so it's essential that they're organized, easy to understand, and maintained to a standard worthy of an audit. When possible, it's best if the books are free from personal write-off costs and not co-mingled with other businesses.
Ready to Sell?
Every business owner has different goals, values, and aspirations, but inevitably there comes a time to exit. Whenever that time is for you, Website Properties is here to assist!
Firstly, Some Items to Consider and Prepare…
Organize Documentation and Financials
For you to be able to sell your FBA business without any roadblocks in the buying process, it's important to be prepared with the relevant FBA business documents and data. The better your business looks on paper, the higher the chances of getting attractive offers.
Ranking, Ratings, and Reviews
A prospective buyer will look at your Amazon ranking and customer ratings and reviews to get a better idea of how your business and products are performing on this platform. Look to improve your Amazon ranking by optimizing your product listings with the right keywords and images. This will increase your prospective buyer's interest in your business.
Inventory
The mistake many sellers make is keeping products that do not generate sales. This increases your storage costs and can decrease your business valuation. Review your inventory and decide what to eliminate from your product listings. Also take advantage of Amazon's tools that make it easy to track your products.
The Amazon FBA Business Sale Process
Below are the basic steps of the process:
Valuation
The information we collect from you through our Seller Questionnaire, Detailed Financials, Business Entity Information, Email Correspondence, and any Supporting Documents you may have, helps us review to determine Seller Discretionary Earnings (SDE) as well as ultimately present your business to the market.
Our finance department will review your questionnaire along with the financials and work through the add-backs to calculate the Recasted Net Income for the Trailing 12 months and the last three years. Typically, there is communication with you to arrive at accurate and finalized figures. This is an important step as it paints a stable foundation and clear picture of your business and can make it exponentially more valuable to prospective buyers.
Most e-commerce businesses are sold using The SDE multiple methods that determine the value of a business by multiplying the Seller's Discretionary Earnings (SDE) by a number known as the multiple, Amazon FBA is no exception. Seller's Discretionary Earnings are the pre-tax, pre-interest profits before accounting for one owner's benefits, non-cash expenses, one-time investments, and non-related income of discretionary expenses. Basically, SDE is the money that the owner "really" makes by operating the business. While the value of any given e-commerce business varies, buyers will typically pay anywhere from 2.5 to 4.5 times EBITDA (earnings before interest, taxes, depreciation, and amortization) over a 12-month period for an Amazon business.
Listed below are factors that determine the multiples of your company.
Business Age — The longer your company has been in business the more your business will be worth providing your revenue growth is stable or positive.
Growth — The higher the year-after-year growth is trending as well as the projected growth the more your business will be valued.
Competition — If you are in a highly competitive niche this lessens your business's worth. The less competitive your niche is the more your business is worth.
Margins — Profit margin is the percentage of each dollar of revenue that your business retains as profit. The higher the percentage, the more profitable the business is thus increasing the business's value.
Customer reviews — The higher ranking of the positive customer reviews as well as the volume of positive customer reviews will increase your business's worth.
Owner's duties — The more difficult it is to replace you, the less your business is worth because the new owner will need to hire someone to replace you. The more hours you work per week, the less your business is worth.
Staff — The higher the quality of your staff, the more your business is worth. This includes experience and longevity. It is also a benefit if the employees will continue on with the new owner.
‍Going to Market
Website Properties will prepare a sales prospectus. This is essentially a brochure that shows how awesome your business is and highlights why it'd be a great acquisition. Once we have the finalized prospectus, the Broker has finalized the pricing with you and the Brokerage Agreement is signed we are ready to go to market! Our team will build the listing ad, email announcement, and text for the business-for-sale portals.
As the prospectus is released to interested parties with an NDA on file, your Broker will then field questions from further interested Buyers and connect with you to get any responses as needed and/or to set-up a conference call to discuss the finer details of your business. It is important that you reply as timely as possible to keep the momentum moving with parties that are showing this further interest in your business.
Throughout the entire process, Website Properties takes every step to protect the confidentiality of you and your business. Prospective Buyers that inquire about your business will be asked to sign our Confidentiality Agreement, also known as Non-Disclosure Agreement or NDA, prior to receiving the Prospectus for your Business.
Your Broker plays a very important role in the selling process, providing professional guidance to you and working on your behalf to find a buyer with a deal that works for you. This allows you the time to continue to focus on maintaining profitable operations. There may be times when multiple prospects are interested in your business. As parties show serious interest in your business, a Broker will be essential in negotiating the terms of incoming offers to maximize the best exit for you.
Preparation for Due Diligence
Generally, the Due Diligence list consists of third-party documentation such as Merchant Statements, Bank Statements, Amazon Statements and Tax Returns when applicable or available. The buyer may also review other items such as sales data, product lists, inventory, customer lists, suppliers/vendors agreements, and website analytics. As well, a buyer may look into any historical records and future projections of the Business.
In preparation for receiving offers, our Brokers will support you in getting the business ready for potential buyers' due diligence processes. This involves ensuring that you have all the appropriate data that we and/or buyers are likely to request, in the right format, and suitably packaged. Meanwhile, our Broker will also do their homework to identify the right buyers!
Offer, Negotiation, and Closing
If after reviewing and further discussing the company details with the Broker a buyer is interested in acquiring your Amazon internet business, the Buyer would then submit a written offer in the form of a Letter of Intent (LOI). The Broker will support you in assessing the LOIs and assisting in any negotiations with prospective buyers. If any are a good fit, you can decide to accept the offer and move to due diligence. This is an exciting step in the process of selling your business.
The due diligence process takes place for an agreed-upon period of time after an offer has been accepted, which will be stated in the LOI. This is an important time for you and the Buyer as you build trust and confidence in the sale, being engaged and responsive each step of the way.
At the end of the exclusivity period, all being well, the buyer and seller will draft a Purchase Agreement to finalize the sale. Both parties may choose to connect with their respective legal counsel during this stage of the process.
Once complete, the deal is signed, money is wired, and your business is sold – Congratulations!
If you are interested in learning more about, FBA-Fulfillment by Amazon businesses call or email us at Website Properties.