FBA For Sale | Buy Amazon Businesses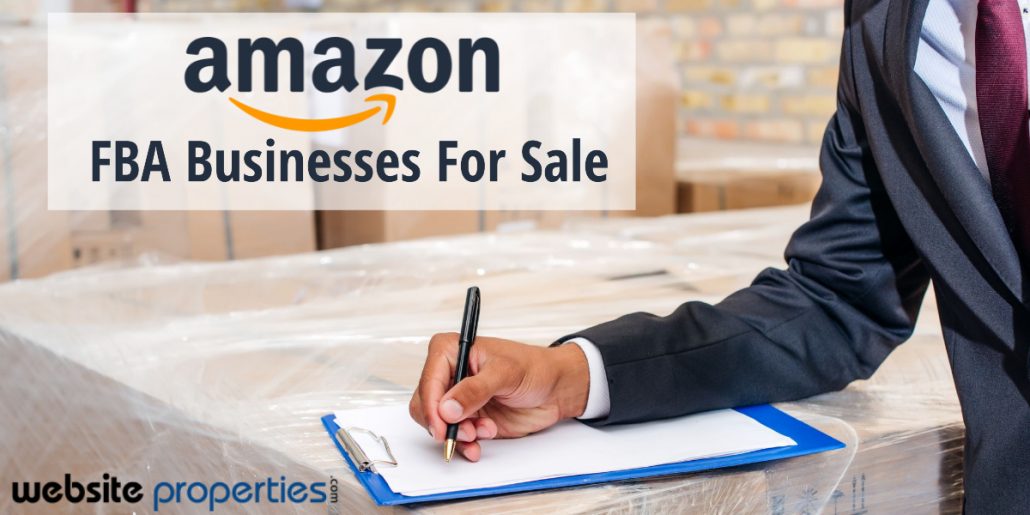 An FBA for Sale is a business for sale listing that is in demand by savvy entrepreneurs who are taking notice. Over one million people purchase products from Amazon every single day. If you asked the average Amazon shopper, they probably believe Amazon themselves are the sole entity that handles all products from the warehouse to your doorstep. This is not always the case, as Amazon allows third-party sellers to display products on the Amazon website. If you shop on Amazon frequently, the chances you have bought from a third-party seller are likely.
However, Amazon also offers a particular type of third-party selling on their website called Amazon FBA Business. FBA stands for "Fulfilled by Amazon," which means Amazon takes the responsibility of holding your stock in their warehouses until orders are ready to ship to customers. In Amazon's words, FBA for Sale simply means, "You sell it, we ship it."
Since Amazon takes on a large and physical part of the e-commerce process, this makes FBA Businesses a very attractive and profitable opportunity that many entrepreneurs want to jump on,, but it is not as simple as creating an FBA business and profiting immediately. You must start from the ground up, researching the products to sell on an FBA-Amazon storefront, sourcing the product from a manufacturer, finding a shipping provider, and posting the Amazon product listings. There is still a large amount of work that needs to go into a successful Amazon FBA Business, and it does not ensure that you will profit by the end of it. You may have to wait anywhere from 3 to 6 months until your Fulfillment by Amazon FBA starts to be consistent. With most events in life, the beginning of gaining momentum to get started is the most challenging part of the process.
Therefore, Website Properties urges entrepreneurs to first consider the buying and selling of their online digital businesses including those associated with an Amazon FBA and with the help of one of the Internet's top online business brokers. Website Properties has experience buying and selling Amazon FBA Businesses and understands that not everyone has the time or design expertise to start an FBA business from scratch, but they have the money. If this describes you, then take a look at our current listings of established Amazon FBA Businesses / Amazon Storefronts For Sale on display at the official Website Properties website. When looking at listings of Amazon FBA Businesses / Amazon Stores for sale through Website Properties, we provide an ample amount of information that any buyer should need to consider. This includes, but is not limited to:
– Gross Revenue: The total accumulation of all earnings in a company before any deductions are made.
– Cash Flow: The total accumulated money being moved in and out of business.
– Status: Whether the current business is active or archived.
– Industry: The industry associated with the goods being sold.
– Category: Further distinction on type of business (i.e., eCommerce/drop shipping)
– Location: Location of previous business owners.
So why buy an already established FBA/Amazon storefront from Website Properties? Everyone's main reason is to get a large return on investment and make money. Besides that, there are three main reasons why an entrepreneur would choose to buy an already functioning FBA/Amazon storefront rather than start one themselves:
Avoiding the risk of failing to launch an Amazon FBA Business: As stated earlier, starting up an Amazon FBA is not an easy task. You will need a fair amount of capital to last you at least 3 to 6 months before you can rely on your new Amazon store to turn a profit. To put it simply, there will never be a way to avoid risk truly, but you can mitigate the chances of many risks by purchasing an already-established FBA-Amazon storefront. Some difficult things that can be already set in place when you buy one of these businesses include:
Finding a product from a trustworthy manufacturer
Creating unique marketing strategies
Building a dedicated customer base
Creating SOPs
Negotiating margins with a supplier
Building credibility
…and more!
2. Not enough time but have enough money: FBA-Amazon storefronts that are already entrenched in their market are not cheap to purchase. Not including how much the inventory is, you could expect to pay almost 20x to 30x the monthly profits for the entire business. This is for a good reason, though, as the time and energy required to get there are immense. One of the biggest reasons Amazon stores do not scale fast is usually due to capital. A person with lots of capital to spend will have a favorable time with an Amazon storefront limited due to capital itself.
3. An advantage that makes sense: Sometimes, opportunity strikes at the right time and you have a perfect advantage for a specific FBA-Amazon storefront. This could be a unique opportunity that makes it more valuable for a particular person to own an Amazon store. For example, a famous Instagram influencer with a big following that does obstacle course gym training could invest in a storefront that sells liquid chalk, which is used for better grip while doing obstacle course training. They can start showing off their product to their Instagram audience, which would also serve as the same audience of the product. Another unique advantage one can possess is general knowledge of Amazon's storefronts and product optimization. This gives you much more freedom and opportunity in which FBA/Amazon storefront you can purchase.
Here are a few examples of some Amazon FBA "Fulfilled-By-Amazon" businesses currently listed on the Website Properties, official "Websites For Sale" page of our website.
Trademarked Brand Hair Product – Amazon FBA Business
Status: SOLD
Description: Having spent her life struggling with ways to manage her thick, curly hair and finding no product on the market that would come close to doing what she needed in a hair product, the founder decided to take matters into her own hands. With the goal of creating a high-quality hair product based on the features she had been searching for, she designed and created her own brand of this niche hair product.
Asking Price: $395,000
Gross Revenue: $266,754
Cash Flow: $110,741
Category: Ecommerce
Industry: Consumer Goods
2. Trademarked Brand Home Organization Products – Amazon FBA Business
Status: SOLD
Description: This offering is a trademarked brand of home organization and storage products. Products are manufactured exclusively for the company and shipped directly from the supplier to Amazon. The brand has tens of thousands of reviews across its SKUs with excellent Amazon ratings with both high product and seller feedback ratings.
Asking Price: $8,000,000
Gross Revenue: $8,416,815
Cash Flow: $1,822,338
Category: eCommerce dropship
Industry: Consumer Goods
3. Sports and Outdoor Brand Products – Amazon FBA Business
Status: FOR SALE
Description: This business is an established Amazon retailer in the consumer recreational/outdoor apparel and outfitting market generating 100% of sales through Amazon US. Products are white-labeled with the company brand and shipped directly from suppliers to Amazon. Offering a broad and dynamic SKU lineup that is agile and always presentable, its inventory does not go stale. Utilizing the FBA Amazon service to inventory, sell, pick, pack, and ship products allows the business to be run efficiently with one owner working approx. 8 hours per week with little overhead. It is, accordingly, also easily relocatable and can be operated from any location with internet access.
Asking Price: $1,000,000
Gross Revenue: $1,084,402
Cash Flow: $421,459
Category: Ecommerce dropship
Industry: Recreation and Sports
If you are thinking about purchasing an established Amazon FBA business / Amazon Storefront, it is highly recommended that you to do so with the help and guidance of a credible online business broker who may also be referred to as a website broker. Everyone wants to minimize risks associated with taking on a new business, and Website Properties can assist with that. Our time will be 100% dedicated to finalizing the sale and/or purchase of an Amazon FBA Business a.k.a. "Amazon storefront", and you can still focus on your main job while not stressing over your new business. Website Properties has assisted many clients in successfully buying and selling Amazon FBA Businesses and Amazon Storefronts. To date, we have helped to close many hundreds of millions of dollars of online digital properties including Amazon FBA, and Amazon storefronts. No matter what part of the closing process, we understand every single aspect of it. You will have peace of mind knowing a professional online business broker is doing everything to make this as smooth as possible.
People Also Asked?
How To Sell an Amazon FBA Business?
Where does Website Properties list other online businesses for sale?