What to Consider when Choosing the Best Website Broker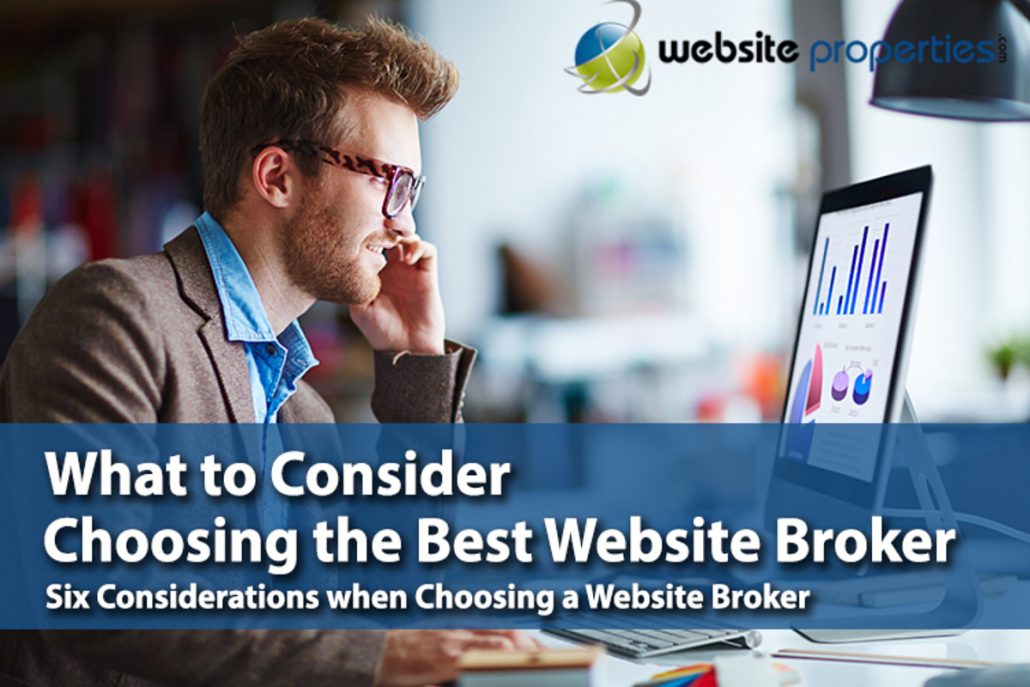 You have done some due diligence and decided that it may be a good time to sell your online business. Several paths can be taken when you decide to list your website for sale. You've decided that the services of a website broker may be advantageous in your situation. Even though you are considering a private sale you want to explore how the services of an online website broker can benefit you when it comes time to sell your online business.
So what should you look for when choosing a website broker?
Six Considerations when Choosing a Website Broker
Here are six principles when choosing the best website broker to list your website for sale.
1. Identifying the true value of your business
What's the best way to value your business and protect your vested interest? Seasoned website brokers should be able to help you answer that question. A common valuation metric is the net profit multiplier method. First, calculate the net profit of your business, which is its profits once all costs have been accounted for. Secondly, multiply the net profit by the industry standard multiplier number, which can range from 2-4 depending on a host of factors such as business age, industry, and growth levels. The multiplier is where knowledge and experience make the difference, so choosing an experienced broker becomes important.
Your online business can be evaluated for free by an online website broker such as Website Properties. We offer a free valuation to all new clients and can help point you in the right direction.
2. Experience in your business niche
At any given time, particular product niches or business models can be very popular. Simple examples of popular niches are Amazon FBA, SAAS, or even businesses in a particular product niche (cell phones, cannabis, etc.). A website broker can work with many different types of online business for sale listings.
If you are in a specific niche, a website broker's experience can be incalculable when it comes to exit strategy. While having a business in a growing niche may seem like an endless path to profits, the future is never certain. Once the tide starts to turn, few may want to buy some special products, but a website broker knows the trends and what to do to adapt to the sudden changes.
It's simple economics, the law of supply and demand. If you have an online business for sale listing, identifying the niche means that you can find people to purchase at maximum value. A website broker can earn their keep many times over by connecting you to the right book of business.
3. Deciding when it is the right time to sell
Timing is everything. If you wait too long, it is possible that you will not be able to sell for maximum value. The adage in the stock market is to buy low and sell high—and that is exactly what you should do when it comes to your online business for sale listings. A website broker can obtain a good deal in these conditions. An internet business that shows several quarters of increasing revenues, is much more valuable being sold with a website broker than a similar business with the same year-average net profit but with decreasing levels of monthly revenue.
Why?
Because one company shows signs of growth and the other looks like it is going to go bust soon. Getting out while there is still room to grow will give a fantastic price and give your buyer confidence that they can reap returns on their investment, and an advantage for the website broker that you choose to sell your business.
It is important that entrepreneurs know their limits. If you are happy working as a one-man band maybe you will try to handle your online business for sale listings instead of accepting a website broker's services. And that is fine, as long as you understand that when you manage your own sales process and list your website for sale, you may be leaving money on the table. A website broker can be instrumental in advising you when the best time to list your website for sale is.
Don't worry about there being more potential profit in the business, it's actually a good thing. The more opportunity for improvement, the more enticing it will be to buyers. If you know or even think that you have taken your online business as far as you can, it is an excellent time to list your website for sale and move on to new pastures.
4. Ensure that the selling process is secure and legal
You've worked hard building up your online business. Now you just want to relax and focus on your hobbies. All the work you invested is about to bear fruit, and you are now ready to sell for maximum value. Your online business can be worth a lot of money, and this can involve legal ramifications.
A website broker can assist with all of the legal aspects of the transaction that involves a large amount of money or contract selling terms. It is a prudent decision to choose the right website broker to assist you and your attorney in taking care of all legal aspects when it comes to listing your online business for sale.
5. Use all the help that you can get
It is possible that selling is not your strong suit and can make you feel uncomfortable. If you are in this camp, you probably want all the help that you can get. You can search online, speak with your contacts, and get an idea of where to list your website for sale; or you can ask a website broker for help.
How can a website broker really help by listing your online business for sale? First of all, a website broker has a buyers database that can be leveraged to quickly locate the best potential buyers for your online business. That's why a website broker can be an instrumental part of your online business for sale listing.
Secondly, working with a website broker can save valuable time. We all know that time is money so why not speed up the online business selling process with the help of a website broker. Between the experience, buyer lists, and industry contacts you are guaranteed a faster sales cycle.
6. Does their reputation precede them
Deciding to work with a website broker is a very important decision. You can search the internet for "sell website" like many online business owners and study the results. We hope that the considerations we have presented will help make choosing an online website broker easier. Take your time to consider the decision carefully, reach out and ask questions. If you feel like you are under too much pressure, do some research and get all the help that you can while choosing the best website broker.
One of the most important things is the reputation of the website broker. What are people saying about them on the internet? Do they have a legit website platform and real contact information? When you try to call the website broker, does someone pick up the phone?
You want to work with a seasoned website broker that has the right contacts and years of experience. In the end, trust your gut.
If you are thinking of selling for maximum value, it is crucial that you get a business valuation. Only once you have an accurate valuation can you make an informed decision on what to do next. Here at Website Properties, we offer free valuations to all customers to help them get started on the journey of selling for maximum value. Request a free Website Properties valuation to get started today.
Related & Recommended Reading